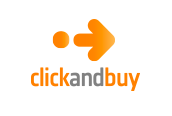 Available since 2000, ClickandBuy is an appealing and trustworthy online payment solution. Chosen by thousands of online merchants in Europe and elsewhere, ClickandBuy offers a fast and secure money transfer service, especially for online casino players. It offers several types of payments, all customizable to meet the needs of the clients, depending on their situation.
Functionality
ClickandBuy offers a simple service to carry out financial transactions on the Internet. You can make purchases, deposits and withdrawals through debits, credit card or via an online account provided by ClickandBuy. To belong to the ClickandBuy network, you can register online and the procedure is completely free. ClickandBuy is focused on no less than forty forms of payment through nearly twenty-five international currency exchanges. The interface generated by ClickandBuy is fully secure and meets the current privacy standards.
Withdrawals and deposits
Payment methods associated with the ClickandBuy online service allow users to deposit, withdraw or simply transfer funds from their account to another account. Thus, it is not surprising that a large number of online casinos encourage their players to switch to ClickandBuy, the trend is to favor a single electronic payment method used both to finance an account for the purchase of goods and services over the internet. ClickandBuy users can therefore only withdraw or deposit money with an online account that works a little like a real bank account. In addition, users sometimes receive professional benefits if they use ClickandBuy to deposit money into their online casino account.
Benefits
Convenience is the primary benefit of ClickandBuy. Indeed, one can safely make purchases from home. In addition, transactions are processed quickly and efficiently.
ClickandBuy allows you to shop on the internet while still giving you maximum protection. In addition, you'll never need to enter your personal data when shopping. You'll need to do that during registration.
Around 7000 online merchants currently trust ClickandBuy, which provides its customers an online account where they can view the transaction history, manage their funds and access to an overview of their funding. Additionally, ClickandBuy also provides customer support that can be contacted seven days a week and twenty-four hours a day, if you have questions or problems.
If this payment did not impress you keep on looking for the best one: