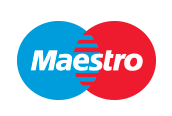 Maestro is an international debit card that was crafted as a joint venture between MasterCard and Europay International. The Maestro card provides access to funds in a highly secure bank account that allows its user to perform financial transactions. With Maestro, users of over one hundred countries around the world are able to purchase goods and services on the Internet. In addition, you will notice that the Maestro debit cards are becoming more common in countries belonging to the European Union. In fact, the authorities are trying to standardize the means of payment: Maestro is in this sense a perfect example of a way of transferring money because it's universal and easy to use.
Functionality
Most online gambling establishments accept the Maestro debit card without a problem. Becoming a global payment solution, the Maestro card is similar to Visa and MasterCard holder in terms of functionality. When a cardholder makes a Maestro payment online, the funds are transferred out of its current account one or even two days after the transaction. Namely, some online casinos allow you to benefit from exceptional bonuses when using this mode of payment including 10% promotions of on certain deposits.
Withdrawals and deposits
The holder of a Maestro debit card should contact their bank if he wishes to use it to make purchases of goods or services over the internet. Indeed, it is essential to enable the Maestro card for use on the web (they don't all include electronic commerce). Once you're assured that the issuing bank participates in Maestro electronic payments, you can make payments safely. However, Maestro does not provide online banking accounts of offer that kind of support. As for your bank accounts, you must settle for newsletters and monthly account statements to see the history of your transactions. However, it's no problem to deposit, withdraw or transfer funds through the Maestro service.
Benefit:
Maestro provides a clear, fast, reliable and fully secure payment system. In addition, this method of payment is officially available in hundreds of countries around the world and with seven million online merchants.
Maestro sends bank statements by mail to its users, allowing them to view the transaction history on their accounts.
Operating as a traditional credit card, Maestro is the union of two very reputable payment services. Also, this method of payment is accepted in almost all online gambling establishments.
Transfer funds on your player's account with these methods: